Seasongood Forum – The Power of Organizing: Finding your Community's Voice
On February 23, 2019, the Seasongood Foundation hosted The Power of Organizing at Cincinnati's Renaissance Hotel. The culmination of more than two year's preparation and planning, the Forum included representatives from a broad array of civic-minded groups: Common Cause of the United States; Peaslee Neighborhood Center; The Partnering Center; AIR, Inc.; The Sierra Club; Woman's City Club; Communities United for Action; Invest in Neighborhoods; the City of Cincinnati; Ohio Organizing Collaborative; Community Change; Bold New Democracy; and the Homeless Coalition. The Seasongood Foundation continues to build on this effort by supporting a Citizens' Organizing Round Table, to be convened by AIR, Inc.
Ohio Innocence Project — Criminal Justice Ethics & Education Video Series
Since 2003, the Ohio Innocence Project has worked to secure the release of 28 wrongfully convicted Ohioans, who collectively served over 525 years behind bars. Its work also includes helping to develop and advocate for lasting criminal justice reform. With the support of the Seasongood Foundation, the Ohio Innocence Project set out to produce a series of 10 videos on such topics as implicit bias, forensics, malleable memory, and eyewitness identification to teach officials new ways of thinking to make the criminal justice system more fair. Watch their video on confirmation bias below, or learn more about the work OIP is doing on their website.
Peaslee Neighborhood Center —Mobilizing a Grassroots Movement for Equitable Development
For almost 35 years, Peaslee Neighborhood Center has been a community hub in Over-the-Rhine committed to participatory education, creative expression and social change. The Seasongood Foundation has been a key partner in Peaslee's Do Development Differently campaign. This effort began as a local effort to realize a community vision for public land in Over-the-Rhine through the Keep Our Courts campaign. Out of this local campaign came the creation of the Equitable Development Rubric, a city wide policy framework and toolkit for scoring proposed development projects by their contributions toward equity across class and race, when using our public subsidies. Both of these efforts strive to politically engage local citizens within neighborhoods through education, outreach, advocacy, and leadership development. Download the rubric here and learn more the Do Development Differently campaign on Peaslee's website.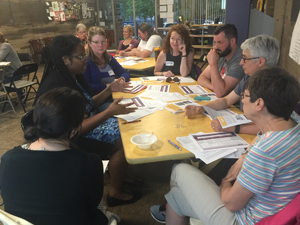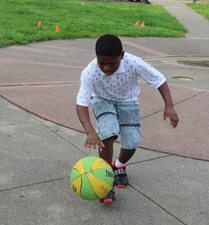 Urban League of Greater Cincinnati — One Westwood
Since 1949, The Urban League of Greater Cincinnati has fostered greater understanding of social justice issues by working to educate policy makers, and the broader community on issues of inequality affecting the vulnerable. The Seasongood Foundation is supporting its One Westwood project to cultivate trust and respect among residents of Westwood and East Westwood through a series of community engagements to establish mutually shared goals for a stronger and more inclusive and unified community. Learn more about the Urban League on its website.