Action Tank — City Council School
City Council School is a program for engaged residents who are interested in running for Cincinnati City Council or want a deeper understanding of the City's government systems and practices in order to successfully champion equitable, impactful policy changes. City Council School launched its first cohort on October 10, 2020. 125 people applied for the 25 student spots. Interest was so great Action Tank secured additional funding to offer City Council Night School, a series of sessions open to the public covering similar topics to those offered in the main program. The first cohort led to several notable participants: Liz Keating was appointed to the City Council seat vacated by P.G. Sittenfeld. Student Dan Davidson formed Treehouse Cincinnati, an arts and community center for LGBTQ+ youth. Five other students are running for local office, and a group of black students have formed a Black Caucus to network and support one another.
Ohio Campus Compact — Campus Election Engagement Project, Cincinnati Area
The Campus Election Engagement Project sought to expand student voter access and participation among 10 Cincinnati-area colleges and universities. Efforts included funding 15 Fellowships to conduct peer-to-peer outreach. Student fellows invested over 1,500 hours in various engagement projects. In Fall 2020, CEEP Fellows recruited 404 student volunteers and together they conducted 67 campus events, including 25 voter registration, 17 voter education, 10 early voting and 15 Get-out-the-Vote events. Notable efforts included providing voter registration information during student orientation, sponsoring drive-thru voter registration events, using institutional Twitter and Instagram accounts to promote early voting, and incorporating voting information in course syllabi and through links in email signatures.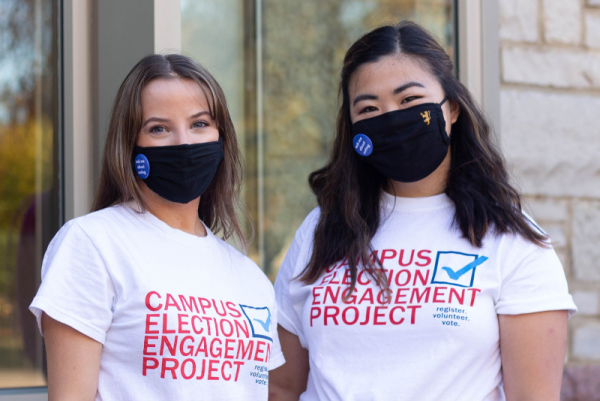 RISE Newspaper — Rise Up News
RISE newspaper addresses the lack of enrichment programming and reentry assistance at the county jail level by providing those who are incarcerated with solution-based articles, valuable information, and community resources listings. Support from the Seasongood Foundation helped RISE expand its readership by 80% in 2020. Rise Up News also created a series of educational videos on Covid-19 to be played in the Hamilton County jail. More recently, Rise Up announced a partnership with the Public Health Department of Dayton and Montgomery County to produce health-related multimedia that runs on every TV in the jail. Rise Up will be presenting to community health, reentry and employment providers in partnership with the Northern Kentucky Reentry Task Force. Founder and Executive Director Tracy Brumfield has been asked to consult with the ACLU on an effort to pass legislation to help those with substance use disorder get access to treatment rather than convict them of a felony offense.
National Civic League — Model City Charter Revision
National Civic League's founders (including Teddy Roosevelt), focused on two critical topics: finding ways to professionalize local government and advocating for self-government, where residents play a key part in making communities work. Seasongood's grant supports efforts to update the Model City Charter to more adequately incorporate civic participation, equity, democratic principles and professional practices. Working groups are making efforts to modernize the document and strengthen language related to equity, engagement, and ethics.